Art Foundation students work at the Manchester Art Fair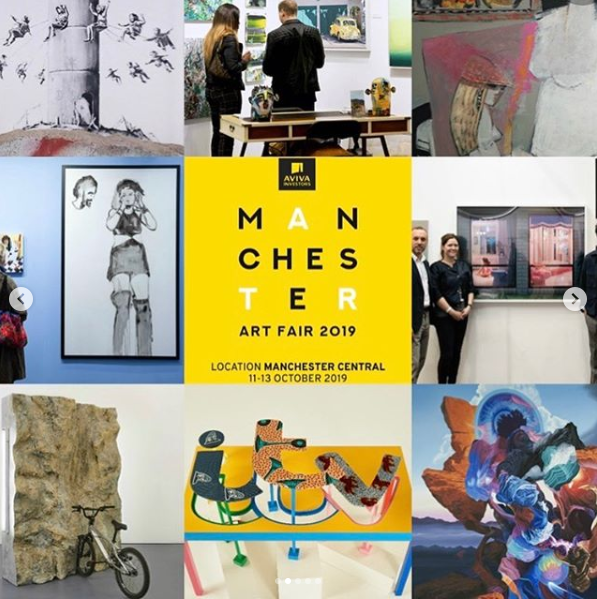 Art Foundation Year students from Ashton Sixth Form College joined the Manchester Art Fair 2019.
The Manchester Art Fair is an annual event, founded in 2008, and this year it was hosted at Manchester Central in the city centre. The Fair welcomed visitors from 9th-11th October, allowing people from Manchester and beyond to view and purchase a range of incredible work including sculptures, paintings, photography and prints.
Such a large scale event requires a hugely dedicated team to ensure visitors have the smoothest and most enjoyable experience. Art Foundation Year students from Ashton Sixth Form College were able to volunteer their time to help by preparing artwork for delivery, directing customers to their preferred artists and generally be on hand to help buyers throughout the day.
Students were able to see how an event of this kind comes together and understand more about the different components that are required, from the set-up and promotion through to the artists and the customers. They were able to experience an event that they may one day want to exhibit at and the hard work and skill that is required to do so. Working at the event, students were surrounded by creators that they could network with. It was also a great opportunity for them to ask questions to help them in their futures careers in the creative industries.
The Art Foundation Year at Ashton is a key component of an artist's learning journey and progression. Often, students choose to hone their skills and find their personal interests and artistic direction while on the Art Foundation Year course. They then go on to progress to some of the top Art and Design-based degrees across the country. Most recently, a student from the Foundation course progressed to Central Saint Martins in London, boasting alumni including Alexander McQueen.
---
Find our more about studying A-Levels in Art and Design at Ashton here.
Find out more about the Art Foundation Year here.
---
Tags: art and design adult and higher education Higher Education Foundation Year