Pride of Tameside Volunteering Award for Grace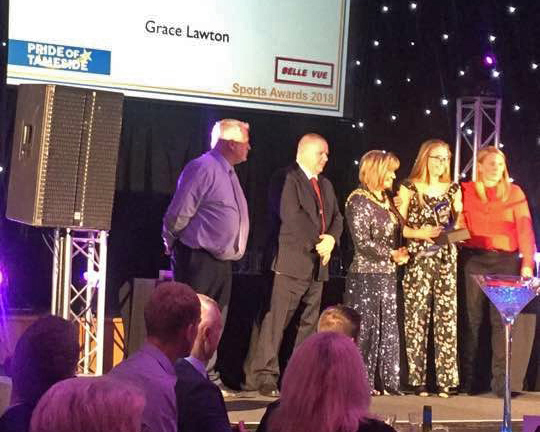 Grace Lawton's dedication to young people was recognised at the Pride of Tameside Sports Awards 2018 at Dukinfield Town Hall last week.
Grace studies a vocational course in Childcare and Education at Ashton Sixth Form College and is currently in her first year.
As well as her commitment to her studies, Grace's work with young people extends beyond her college life. Grace regularly volunteers at Droylsden Swimming Club in her spare time and because of the outstanding work she does, she was nominated in the 'Alex Williams Volunteer of the Year' category at the Sports Awards. This particular category recognises the individuals who have made a massive difference to the sporting community in Tameside by donating their own time week after week.
Grace was shortlisted in the category and on the night was presented with an award for placing third amongst some very strong competition.
The Pride of Tameside Sport Awards are a fantastic event that highlight the invaluable work of both individuals and teams who have a positive effect on the borough.
This award is a great testament to Grace's character. During her Childcare and Education course she also takes part in a range of placements, working with young people in either nurseries or schools.
Joanne Kirkland, Grace's teacher at the college said,
Grace is self-motivated and displays great strength of character. She is extremely hard working and is committed to anything she puts her mind to. She has quickly become a popular, respected member of her peer group and is appreciated for her ability to communicate well, often supporting and encouraging others

I feel that with the qualities and expertise that Grace has demonstrated so far in all areas of her personal and academic life she will be an asset to any future employer or university.
The college looks forward to seeing what the future holds for Grace throughout her studies and beyond.
Tags: sport awards volunteering health and social care education and health child care